Big Project in the oil industry
Wednesday, June 19, 2019 - 11:53
INTRANOX as a leading company in stainless steel solutions, for deposits of all types of storage for the food industry. Intranox develops an innovative project for the food sector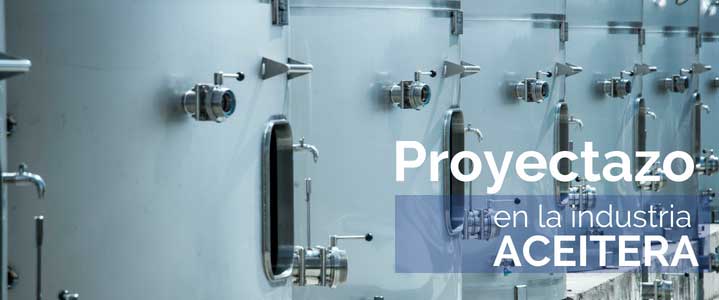 Today we present one of our emblematic projects for its magnitude and complexity. Specifically, this project was carried out in an important and outstanding oil company in the area of Navarra, immersed in the green valley of the Ebro River.
This company started in olive oil, in the 50s. They have always bet on quality and, therefore, since the beginning they have selected the best olives and have pampered the entire storage and manufacturing process. Now, 60 years later, they have managed to be the benchmark of the region, the result of effort and a job well done.
They have taken their successes to more than 60 countries around the world. This makes us proud of the triumphs reaped by our customers. Clients that go far, faithful to their original values as they are to bet strong for the maximum quality of their products, accompanied by tradition and respect for the land, their land. A pleasure to collaborate and participate actively in this project. Projection of storage of refined and crude oil
INTRANOX, MORE THAN THREE DECADES DEVELOPING DEPOSITS IN STAINLESS STEEL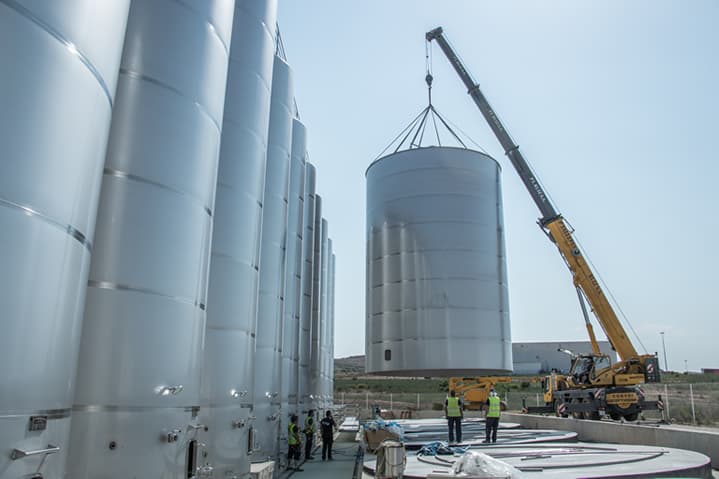 From the INTRANOX team, 49 tanks were designed for this type of oil storage, specifically 9 tanks with a capacity of 600,000 liters, 6 tanks with 350,000 liters, another 6 tanks with 300,000 liters and 28 tanks with a capacity of 150,000 liters, all of which were manufactured directly in our workshops, with the most advanced and innovative manufacturing processes.
In INTRANOX we have more than 30,000 m2 of facilities, which makes it much easier for us to manufacture large projects.
After its manufacture we take care of the transport of the same, for this we have an important logistics fleet that facilitates the management of transport giving an optimal service, A posteriori we place and assemble always by the hand of our team of professionals, with proven experience in montages.
The rest of the deposits and as a consequence of their dimensions were manufactured in situ. In particular, 21 large tanks were built and with storage exceeding 13,000,000 liters.
These tanks were equipped with a heating and punching system to maintain the conditions of the oil, under optimum conditions, and excellent conditions."
INTRANOX, TECNOLOGÍA DE VANGUARDIA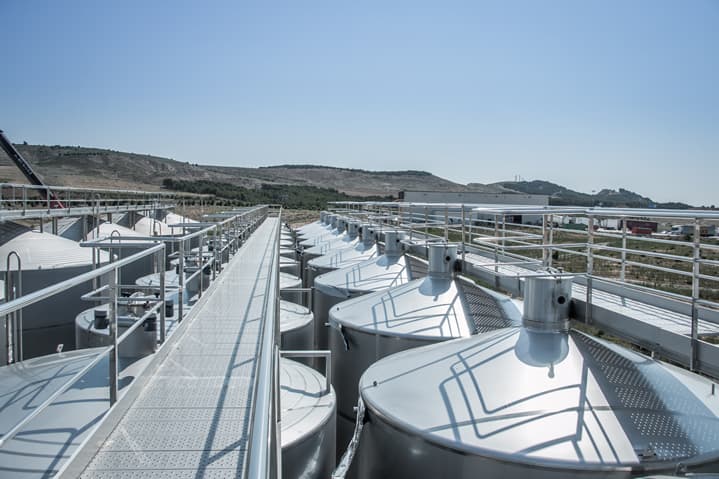 Turnkey projects since we take care of the whole process, design, manufacture, transport and assembly
A single interlocutor in the whole process and with the maximum guarantee and commitment INTRANOX.
All our projects have the technical and infrastructural support, which always provides the maximum guarantees in terms of services and deadlines.
The customer is very satisfied with these storage capacities of the deposits, since they work better than they wanted.
INTRANOX once again exceeded the expectations of the client, facilitating the work of his day to day oil company.
In addition to point out more about the project, transit footbridges were placed allowing access to all mouths.
" INTRANOX EXCEEDED THE EXPECTATIONS OF THE OWN CLIENT AGAIN "